Estuary at ONE°15 Brooklyn Marina announces a new executive chef
The corner anchor spot in Brooklyn Bridge Park
BROOKLYN BRIDGE PARK — Estuary, at ONE°15 Brooklyn Marina, has announced the hiring of a new Executive Chef in Sebastien Chaoui. Trained in fine-dining kitchens of Paris, Chef Sebastien has been working the culinary scene in New York since late 2000 as a caterer, personal chef, bakery owner and in fine-dining kitchens, most recently at Tribeca's beloved Coco J'adore, which closed during COVID.
The arrival of Chef Sebastien promises the third pillar of Estuary's potential, adding celebrated cuisine to the first-class ambiance and world-class views of New York Harbor, Lower Manhattan and the Brooklyn Bridge.
Special Event at Estuary
---
One of the first special events being presented by Executive Chef Sebastien Chaoui at Estuary will take place on Wednesday, Aug. 30. A special menu has been prepared for the evening, as celebrated bird expert and author Heather Wolf presents a special program and slideshow describing the incredible diversity of birdlife among Brooklyn's numerous waterfronts. Attendees will receive a complimentary copy of Wolf's latest book "Find More Birds." To attend the special event, click here.
"Coming out of Covid we searched for a few months and found a number of great candidates, but when I met Chef Sebastian I knew I had found the 'soul' to Estuary — someone not only with the culinary skills and background, but with the heart and spirit we wanted, around whom we could restart,'' said Estelle Lau, Deputy CEO ONE°15 Brooklyn Marina. "We feel so lucky to have found Chef and to be able to share his vision here at Estuary."
Chef's vision is for a simple, well-executed menu of extraordinary quality intended to connect with the community. The refined offerings in a casual environment are intended to create a unique experience along the busy waterfront. Salmon Tartare is elevated through gravlax, pickled vegetables and zesty vinaigrette (all house-made) with dill topped by a crispy squid ink snowflake with similar chips on the side. The Symphony Salad of watermelon, cantaloupe, honeydew and pickled cucumber is dressed with a tomato-watermelon vinaigrette. There's a tasting flight of Deviled Eggs: classic, pancetta, caviar, chives. Entrees include Roasted Cod with jumbo asparagus and a tarragon Hollandaise, a Ratatouille Burger (as well as an organic ground beef burger), and Chef's version of Deconstructed Fish & Chips, where the cod is dusted and fried, served over a hollowed out puff pastry filled with tartar sauce and topped with picked vegetables and paired with fingerling potatoes. Desserts are provided by nearby Ebb & Flow, also under the same ownership and Chef's auspices.
Deviled eggs (left) and salmon tartare.
Adding elevated yet accessible cuisine to Brooklyn Bridge Park has created a sense of excitement around Estuary, most of all within the man at the helm of this evolution.
"It's all about the experience for our customers. It should be something special and unique, of experiencing pleasure while being in our restaurant," Chef Sebastien said. "I know we have a lot of beautiful restaurants in Brooklyn, but I'm not scared. They should be scared of me."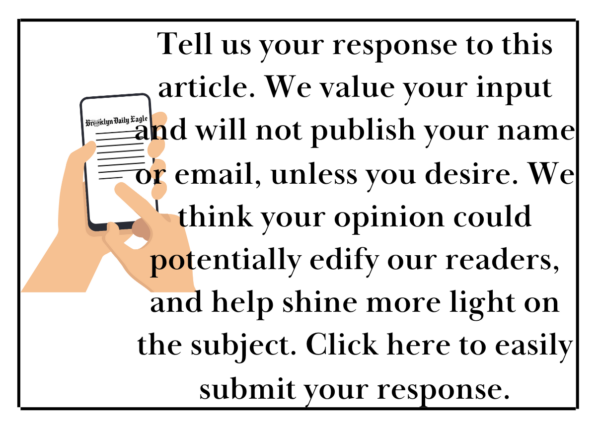 Leave a Comment