DOT's plans for BQE – Atlantic Ave. interchange infuriate Brooklyn residents, stakeholders
'Straight out of a Robert Moses playbook'
COBBLE HILL — Brooklyn officials and local community members expressed overall disappointment — and even outrage — with the city's proposals for a redesigned Brooklyn-Queens Expressway – Atlantic Avenue interchange, unveiled at a meeting held via Zoom on Thursday. More than 140 participants attended the meeting.
This interchange lies at the southernmost end of an upcoming massive project to rebuild a 1.5-mile stretch of the BQE from Atlantic Avenue to Sands Street, including the Triple Cantilever underpinning the Brooklyn Heights Promenade.
Three different plans were presented by officials from the NYC Department of Transportation and its design partners WXY Studio and Sam Schwartz Engineering. (See graphics comparing Concepts 1 – 3.) These proposals focus on improving pedestrian, cyclist, motorist and truck interactions at the interchange, bringing on- and off-ramps into compliance with modern federal safety standards, and reuniting Van Voorhees Park.
The majority of residents and electeds attending the meeting, however, complained that the proposals would instead increase overall traffic, shift unsafe traffic conditions from Atlantic Avenue onto local Cobble Hill streets and bring increased pollution to residential areas.
In addition, attendees expressed disappointment that the city was focused narrowly on improving traffic flow at the Atlantic Avenue interchange, rather than incorporating the interchange into a corridor-wide transformation of the entire BQE.
DOT Chief Strategy Officer Julie Bero said, however, that the interchange served as a critical regional access road, a truck route to the Marine Terminal, the fastest way to the south end of Brooklyn Bridge Park and a bike route to New York City Ferry.
"It is one of the only full interchanges in Brooklyn with on- and off-ramps connecting to the highway, and it is a mapped freight route and a vital connection for the regional economy," she said. More than 50% of trucks using this interchange are traveling within Brooklyn, Bero said.
Three basic concepts
The three designs presented offered different approaches to a long list of problems brought up by previous BQE workshop participants, including long pedestrian crossings, a large number of vehicles turning from different directions, unsafe walks to parks, the lack of dedicated bicycle lanes, challenging bus stops and slow bus speeds due to congestion, Bero said.
DOT ruled out structural changes on the state-owned BQE bridge over Atlantic Avenue because "it is in fine structural condition," and reconstruction would add unnecessary costs and delay the overall schedule, she said.
She added that the city also wanted to ensure "that nothing in our planning precluded or presented hardships to future long-term planning to the waterfront in this area."  She did not specify what this long-term planning might entail, which raised some questions in the Zoom's chat section.
The design team also ruled out adding pedestrian bridges and connections over the BQE for both technical reasons and because this, too, would "impact the overall production schedule and costs," she said.
"It is unlikely there is a perfect solution to this area that will accommodate all needs," with the designs focusing on "balancing trade-offs," Bero said.
NYC DOT has divided the BQE Central project into five zones. The Atlantic Avenue interchange is designated as Zone 5. DOT had delayed releasing their plans for this section because it presented particularly thorny design problems.
"We decided we needed additional time to enhance something for all modes at this interchange," Bero said.
The running commentary in the chat section during the event was mostly negative.
"Just because something is in good condition doesn't mean it's not problematic and doesn't require a meaningful fix," commented Carla Penicka, referring to DOT's refusal to consider making any changes to the bridge over Atlantic Avenue.
Assemblymember Simon: 'Straight out of a Robert Moses playbook'
"The community has long called for better air quality and street safety, especially along Atlantic Avenue and the BQE on- and off-ramps, which are among the most dangerous in the nation. Instead, the DOT revealed a plan that prioritizes trucks and cars and looks like it came straight out of a Robert Moses playbook," Assemblymember Jo Anne Simon told the Brooklyn Eagle.
Simon added, "I'm deeply concerned that the plan will encourage more traffic and more pollution, since vehicles would be closer to homes and the trucks climbing steep ramps will emit increased emissions. I can't imagine that the plans comply with the state's climate mandates, or the climate goals set by the city and nation. It was clear the community had serious concerns and I urge DOT to weigh them carefully."
Councilmember Restler calls for a re-do
"I appreciate DOT's efforts to reduce crossing lengths for pedestrians, but these proposals problematically enhance truck and car traffic around our community," Restler said. "I hope DOT will go back to the drawing board to address this unsafe area."
Cobble Hill residents had originally welcomed the delay in the Zone 5 workshop, holding out hope that the redesign would lead to improvements in the neighborhood divided 70 years ago by the BQE "trench."
However, DOT's presentation could not have been more disappointing, said Amy Breedlove, BQE Lead for the Cobble Hill Association.
"Waiting 5 months to see a zone still understudied and left without the level of design and development of the other zones of the central section was not transformative at all," Breedlove told the Eagle. Breedlove was also disappointed that federal infrastructure money "did not seem to be considered" for Zone 5.
"It is not transformative to transfer unsafe traffic conditions from Atlantic Avenue to residential streets. And putting an on-ramp to a highway on Hicks Street, a residential road lined with homes, is the most egregious concept they have put forward since the Promenade Highway," Breedlove said.
The Promenade Highway, the city's original plan to replace the section of the BQE below the landmarked Promenade, would have replaced the beloved esplanade with a temporary six-lane highway, spewing toxic particulate pollution into the Heights neighborhood for years. The city backed down after vociferous protests.
"It is clear that the city has learned nothing" since that disastrous plan, Breedlove said.
"Without true transformative designs and attention to human health and safety, the DOT will find unified and strong opposition like they faced in the meeting tonight," she added. "A significant turnout of a very engaged and informed public found nothing acceptable in the three concepts shown."
Brooklyn Heights Association: Plan is another 'Promenade Highway'
"It's unbelievable that the city seems not to have understood that people are going to reject highways and highway-related infrastructure on their front doorsteps," said Lara Birnback, executive director of the Brooklyn Heights Association.
BHA is a founding member of the Coalition for the BQE Transformation (BQET), made up of roughly a dozen communities along the toxic highway which are calling for its total transformation.
"In 2018, they tried to tell us that building the Promenade Highway a few feet away from people's windows was the 'Innovative Plan' for rebuilding the cantilever. Now it's 2023, and they are proposing very much the same for our neighbors in Cobble Hill," Birnback said. "These proposals, which would turn Hicks Street into a giant on-ramp for the BQE and build huge highway on- and off-ramps connected to small residential streets like Congress and Amity, are mind-bogglingly wrongheaded and will be soundly rejected."
"Rebuilding the BQE for another century of motor vehicles has always been a bad idea," said Brooklyn Heights resident Cindy McLaughlin, who participated in the recent visionary BQE 2053 Symposium on Governors Island.
"And last week's deadly smog — a symptom of our ongoing climate emergency — should have been the final nail in its coffin," McLaughlin said. "Instead, NYC DOT is doubling down on drivers and pollution: proposing to preserve Atlantic Avenue as a major truck thoroughfare, expanding highway infrastructure, routing more traffic down narrow residential streets, and entirely deprioritizing bikes, transit, and pedestrians. This is both a failure to meet the moment and a rebuke of the city's own transportation mandate in PlaNYC.  DOT needs to go back to the drawing board and rethink the whole project."
Still, there were some workshop attendees who liked some aspects of the plans.
"[Concept] 1B is a clear winner," commented Robert Patrick.
Other comments emphasized having a fully protected bike route on Atlantic Avenue or on another feeder street.
Some commenters tried to offer helpful suggestions to the plans as presented.
"Changing the yellow light on Atlantic to turn to QB [Queens-bound] ramp to red in coordination with the red light from Atlantic would do wonders," commented Nancy Wolf.
Participants in one of the evening's breakout groups said they were "very concerned especially with Concept 3, because it would be adding more traffic to the small local neighborhood streets." This was emphasized especially by parents who take their kids to P.S. 29, the group's moderator said.
DOT said it was keeping a record of comments delivered during the evening's breakout sessions, and assured participants that there would be more opportunities in the future to give suggestions.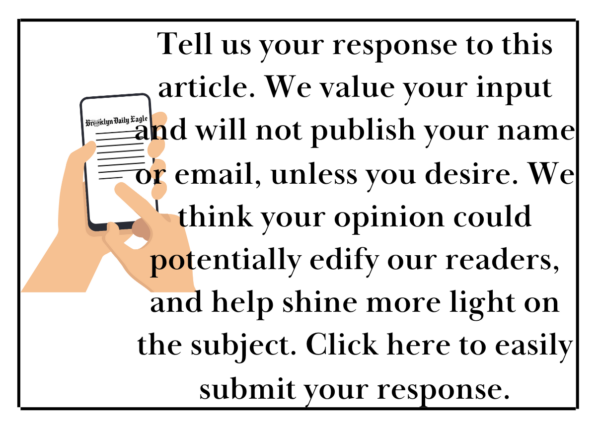 Leave a Comment