Landmarks Preservation Commission says No to redesign plan for decaying Crown Heights 'country house'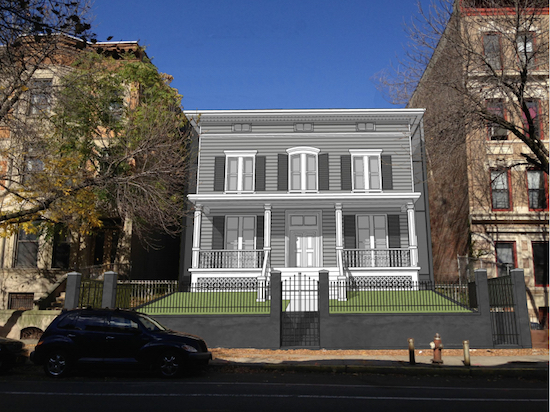 Will the sad little landmark with the big price tag ever be repaired?
The city Landmarks Preservation Commission said No Tuesday to a redesign plan that would have turned 1375 Dean St., which is the only free-standing mid-19th-Century wooden country house in northwestern Crown Heights, into a building that wouldn't be free-standing anymore.
At a public hearing at the LPC's Lower Manhattan headquarters about the George B. and Susan Elkins House, Richard Goodstein of NC2 Architecture presented remodeling plans with glass wall extensions on the sides of the building that would extend the full width of the property's five-foot side yards.
City zoning regulations require that the side yards be obliterated, Goodstein explained to commissioners, because the two-family house is being converted into a four-unit building.
Under zoning rules, there must either be eight-foot-wide side yards or "zero" side yards, Goodstein said.
Several commissioners worried that the proposed design would destroy the essential character of the Greek Revival-Italianate house, which was constructed between 1855 and 1869.
In voicing his objections to the glass wall extensions, Commissioner Michael Devonshire said the architect's presentation of the renovation plans called to mind an expression often used during the Vietnam War: "Sometimes you have to destroy the village to save it."
LPC Chair Meenakshi Srinivasan instructed Goodstein and Elkins House's owner Amber Mazor to speak to the city Board of Standards and Appeals about getting a variance allowing them to leave the five-foot side yards intact while converting the house to four residential units.
Mazor bought the decrepit house through an LLC for $995,000 in October 2014, city Finance Department records indicate.
He wants to transform the interior of the house into a pair of two-family townhouses — a configuration recommended to him by an examiner at the city Buildings Department.
Mazor's original plan, which Community Board 8's Land Use Committee approved last November, was to do a five-unit condo conversion, Brownstoner.com previously reported.
At Tuesday's hearing, Mazor told commissioners that because of the economics of renovating 1375 Dean St., he needs to create four residential units at minimum.
"This house has no future as a two-family house," Mazor said. "It is too big. It is too complicated."
He also told commissioners, "I am at the end of my rope financially."
The deteriorating house has the distinction of having been designated as an individual city landmark in an emergency LPC session — which took place hours before bulldozers were supposed to start tearing the place down.
In announcing the 2006 designation, the LPC's then-Chairman Robert Tierney said, "The house represents the neighborhood's transition from a farming community to an urban enclave, and has a wonderful story to tell about New York City's history."
Leave a Comment