Bed-Stuy's Slave Theater development site is bigger than you think
Eye on Real Estate: There's room for a restored theater and apartments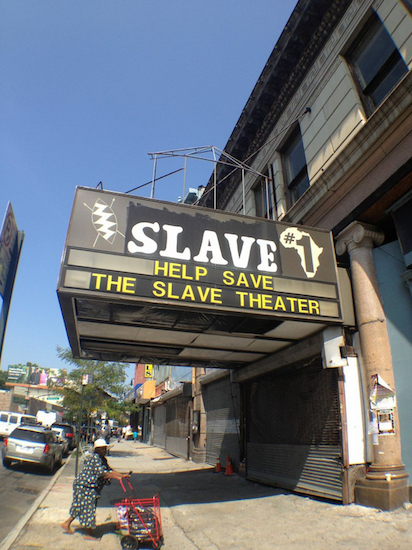 Theater or apartments? There's room for both.
The purchaser of Bed-Stuy's Slave Theater has a bigger development site to work with than has been previously reported, City Finance Department records indicate.
The Fulton Halsey Development Group LLC bought the historic, shuttered theater at 1215 Fulton St. from Samuel Boykin, the administrator of the late retired Civil Court Judge John Phillips' estate. See our related Slave Theater story.
And it also paid Phillips' estate $100,000 last year for a big vacant lot at 10 Halsey St.
The lot is situated right behind the Slave.
The developer also purchased neighboring 16-18 Halsey St. for $2.95 million under the name Halsey Development Group LLC from Cush Campus Inc.
The sale contract for that property is dated September 2012, and the deal closed in March 2014, Finance Department records indicate.
A group called the New Brooklyn Theater hopes to play a role in the site's future.
The group, which tried unsuccessfully to buy the Slave Theater from administrator Boykin, has been negotiating with the developer about restoring the theater.
"Fulton Halsey has given us to understand two main points: That 1215 Fulton will have the theater on its bottom two floors with apartment above; and that New Brooklyn Theater will occupy/own the theater, pending future agreements," Chairman Jeff Strabone told Eye on Real Estate in an email.
"I stress that this understanding remains oral: No agreements have been signed; no money has changed
hands," said Strabone, who's the former president of the Cobble Hill Association.
The theater group's leader sounded upbeat about hopes for being included in the historic property's development but emphatic that no deal has been completed.
"We appreciate our relationship with Fulton Halsey and have found them to be straight shooters," he said. "We have not signed anything with them. All our understandings remain oral."
Fulton Halsey member Jacky Bain told Eye on Real Estate he couldn't answer questions about the property and referred us to a colleague in his office, whose phone number was the same one published in online listings for Brooklyn residential developer Ore International.
The colleague did not respond by deadline.
Leave a Comment