Colossal win for Brooklyn's Collazo
Stuns Ortiz with devastating second-round knockout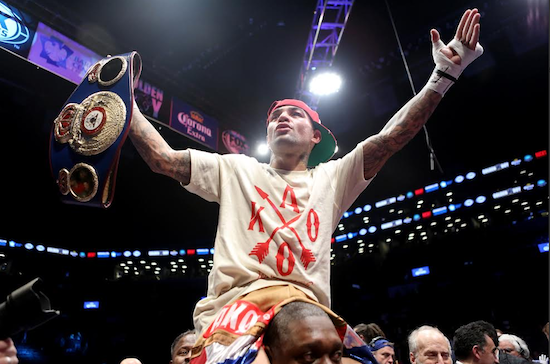 "Vicious" Victor Ortiz came steam-rolling and snarling into the middle of the ring at Barclays Center on Thursday night before a crowd of 9,050 fight fans at the state-of-the-art arena.
Brooklyn native Luis Collazo wasn't the least bit intimidated by Ortiz's swagger, and needed only two rounds to send the Kansas native back to his locker room in much more sedate fashion.
Collazo's devastating second-round knockout of the former WBC Welterweight world champion brought the partisan crowd roaring to its feet, and lifted his career prospects considerably in the wake of his most impressive win after 40 professional bouts.
A looping right hook that appeared to have started on Dean Street before crushing Ortiz's previously broken jaw as it sped across Atlantic brought an end to the night's proceedings.
It also began a path toward what should be a more lucrative fight for Collazo (35-5, 18 KOs) in the not-too-distant future.
"I knew Ortiz was going to come out and be aggressive and I had to stay focused and stick to the game plan," said Collazo after revealing that he's ready to take on all comers in the coming year, including pound-for-pound champ and still undefeated Floyd "Money" Mayweather.
"People say that I can't punch, but I guess they're wrong."
Ortiz (29-5) will attest to that.
Following a 19-month layoff from the squared circle following back-to-back losses to Mayweather and Josesito Lopez, the 26-year-old Ortiz was eager to re-stake his claim as one of boxing's brightest stars.
Instead, he was left on his knees in the corner opposite his own, unable to beat the referee's 10 count with one second remaining in the second round.
"I'm good," Ortiz said after apologizing to the Barclays crowd for not putting on a better show in his comeback bout. "I got caught. No big deal. It happens. I put my heart out there."
Collazo, who retained his WBC International Welterweight belt, intimated that he was ready for whatever came his way on the most important night of his boxing career.
At 32, the local pugilist knew this was likely his last, best shot at gaining re-entry into the world of bigger paydays and more prominent opponents.
"I had no doubt in my mind that I was going to win," he noted. "I went through hard times and maybe I wasn't ready before, but I was ready today. When I was in the locker room, the joy, happiness and excitement hit me that I have the opportunity to perform in Brooklyn in front of my fans and the people I grew up with here."
On Thursday night's undercard, undefeated Bronx native Eddie "E-Boy" Gomez (16-0, 10 KO's) defeated previously unbeaten Daquan "King" Arnett (11-1, 7 KO's) of Orlando, FL in a hard-fought 10-round super welterweight bout.
Gomez, gunning for a world title shot in his division, dominated the pace of the fight after Arnett appeared to gain some momentum in the second round.
"I just took my time in there and did what I had to do," said Gomez. "Now I'm just happy. "I should have gone to the body earlier and I think I could have gotten him in four or five rounds. I'm just thankful for the opportunity to get this fight. I took full advantage and worked hard."
Also victorious on the Golden Boy Promotions fight card were local products "Sir" Marcus Browne (9-0, 7 KOs) of Staten Island, Emmanuel Gonzalez (14-0, 7 KOs) from the Bronx and Brooklyn's own Zachary "Zungry" Ochoa (6-0, 3 KOs) and Rafael Vasquez (10-1, 8 KOs).
Leave a Comment