Five fun spots to see in Red Hook
Eye on Real Estate: Colossal cranes and an excellent esplanade
It's a history nerds' paradise.
The rest of you will love it, too.
We're talking about Red Hook.
Who knew warehouses could be so splendid?
The ones you'll find in this waterfront Brooklyn neighborhood are grand, red-brick edifices with arched doorways and wooden shutters on their windows.
The warehouses were built around the time of the Civil War. Red Hook was a hugely important cargo port at that time.
Shipping continued to be a big deal in the neighborhood through the 1940s.
Red Hook's docks were a rough place in the 20th century. You know this if you've seen Elia Kazan's famed film "On the Waterfront."
It was set in Red Hook, although it was filmed in New Jersey, Kenneth Jackson and John Manbeck's book "The Neighborhoods of Brooklyn" says.
'I coulda been a contender'
Of course you remember this movie.
In an Oscar-winning role, Marlon Brando utters one of his all-time best lines: "I coulda been a contender."
These days, the historic warehouses are filled with art studios, artisans and small manufacturers including a bakery called Steve's Authentic Key Lime Pie. These businesses have made a comeback after suffering dire damage from flooding caused by Superstorm Sandy in October 2012.
---
Sign up for Brooklyn Today, a morning newsletter for those who live, work and play in Brooklyn.
If you don't live in Red Hook, you might be daunted by the fact that the nearest subway stop is far away.
But you can get to the neighborhood on the NYC Ferry. The route's very scenic, with views of the World Trade Center and Governors Island.
Or you can bundle up against the winter chill and ride a Citi Bike. Two convenient cycle-docking spots near the first stop on our stroll are located on the corner of Henry and Bay streets and the corner of Dwight and Van Dyke streets.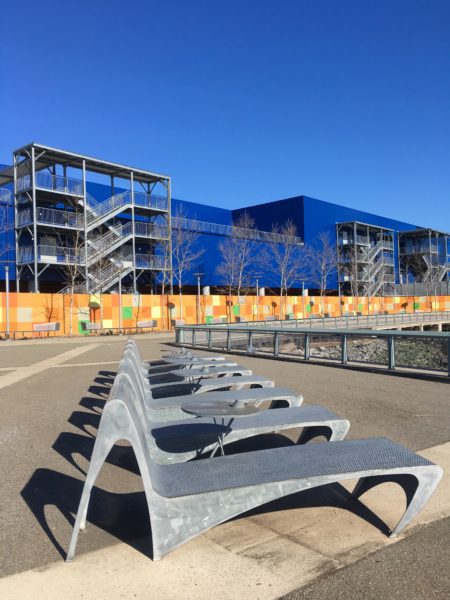 Erie Basin Park
A good starting point is Todd Shipyard, or what's left of it.
To find the remains of the historic facility, head to IKEA at 1 Beard St.
On the back side of the Swedish home-furnishings megastore, there's a recreation area called Erie Basin Park. It's the site of the now-demolished shipyard.
When the New York City Planning Commission gave IKEA permission in 2004 to tear down Todd Shipyard, the retailer agreed to build the 6.3-acre park.
A 2004 article in online publication CityLand said the park was going to have 300 trees.
The prime eye candy in Erie Basin Park is the collection of colossal cranes salvaged from the shipyard.
By the way, Todd Shipyard was constructed in the 1860s.
The park is located on the Erie Basin, which Irish immigrant William Beard built as a cargo port for ships traveling on the Erie Canal.
Van Brunt Street
When you're done communing with the ghosts of departed shipyard workers, walk down Beard Street to Red Hook's primary retail corridor, Van Brunt Street.
You can see art at several places on Van Brunt Street. One great spot is Kentler International Drawing Space.
There was an exhibition of Meridith McNeal's works the day we visited the gallery. It has ended but a new show will be opening soon.
There's so much to do on Van Brunt Street. For example, shop at Pioneer Books.
Pick up some pastries at Baked. One specialty is the Brookster, which is a brownie with chocolate chip cookie dough baked inside it.
Buy vinyl records at the Record Shop. That's the store's name, which is why we capitalized it.
We could make a list as long as your arm. But you get the point.
The esplanade behind Fairway Market
Van Brunt Street dead-ends on the shoreline. There, you'll find an esplanade.
It begins behind Fairway Market, which is on the ground floor of a post-Civil War warehouse that's eye candy unto itself.
The Red Hook Stores Building, as it's called, has a trolley car parked behind it.
You can see the World Trade Center from the esplanade — and the Statue of Liberty, though she's too far away to be photogenic.
As you walk along, you'll notice a barge floating nearby. It's the Lehigh Valley Barge #79 — aka the Waterfront Museum.
Coffey Street
A couple blocks inland, numerous streets are lined with old-fashioned rowhouses.
Coffey Street's got some great ones, especially on the block between Conover and Ferris streets.
After you cross Ferris Street, you'll see Louis Valentino Jr. Park and Pier.
It's got a sandy beach and a pile of rocks topped with concrete blocks painted with letters that formerly spelled out the words "RED HOOK" in capital letters.
Some of the letters are missing. The park is picturesque anyway.
It was named for a Brooklyn firefighter who died young while doing search and rescue at a burning chop shop in Flatlands.
A prime place to see the setting sun
There are lots of places in Red Hook where you can view the sun's last light glimmering on the water.
The third-floor dining room at Brooklyn Crab is one good option. The windows are enormous.
The Reed Street restaurant stands on stilts, which enabled it to survive Superstorm Sandy.
P.S. If you decide to make a night of it in Red Hook, walk around the corner to Conover Street for drinks at Sunny's Bar.
This beloved watering hole began operating in the 1890s. It was saved from permanent closure after Superstorm Sandy by the efforts of Sunny Balzano's wife, Tone Johansen Balzano.
Sunny Balzano died in 2016. Legions of friends and admirers mourned him.
Leave a Comment