Community board knocks down plan for supertall tower at 80 Flatbush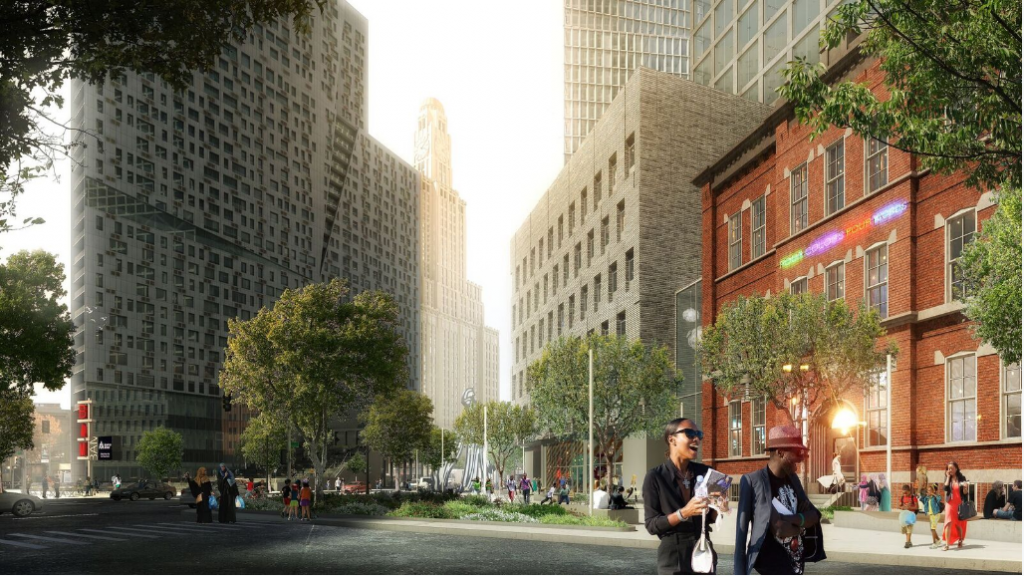 Community Board 2 overwhelmingly rejected a proposed supertall skyscraper that opponents call "a Chrysler Building" on the edge of Downtown Brooklyn.
On Wednesday night, the board voted 32-1 to disapprove the project, commonly known as 80 Flatbush. Five people abstained and two recused themselves.
The full board's vote was a first step in a land-use review process that's required because Alloy Development would need a zoning change before it could build the 74- and 38-story residential, office and retail towers that would have as much overall square footage as Manhattan's iconic Chrysler Building.
The 80 Flatbush project, which Alloy is co-developing with the New York City Educational Construction Fund, has generated controversy among residents of low-rise Boerum Hill, which is adjacent to the project site, which is bounded by Flatbush Avenue, Schermerhorn Street, Third Avenue and State Street.
Opponents argue the high-rise development would be out-of-scale with the nearby neighborhood and set a precedent for future mega-developments.
They say the supertall tower would cast shadows and block views of the landmarked Williamsburgh Savings Bank clocktower, one of Brooklyn's most recognizable architectural icons.
Supporters of 80 Flatbush applaud the inclusion of a new public elementary school and a replacement for Khalil Gibran International Academy. The public high school is currently located in a 19th-century building with inadequate facilities for students.
Supporters also praise plans to construct about 200 permanently affordable apartments in the 900-unit residential project.
And some say it's sound public policy to locate big residential developments near major transportation hubs. The development site is across from the Long Island Rail Road's Atlantic Terminal station, plus multiple subway lines.
But some locals oppose it nonetheless — and thanked the board members for agreeing.
"We're gratified," Boerum Hill Association President Howard Kolins told the Brooklyn Eagle. "The vote speaks for itself."
The association has been spearheading opposition to 80 Flatbush.
"The community looks forward at some point to having discussions about a more reasonably scaled development with Alloy, the Educational Construction Fund and the Department of City Planning," Kolins said. "We shall see."
Alloy President AJ Pires said the developer respects the community board's position, but emphasized that the project has lots of fans.
"The consensus among those many supporters is that building in Downtown Brooklyn along Flatbush Avenue and across from one of the largest transit hubs in the city to deliver affordable housing, two schools and cultural space makes 80 Flatbush a model for intelligent development," Pires said.
As a next step in 80 Flatbush's public review, Brooklyn Borough President Eric Adams will issue a recommendation about the project to the City Planning Commission.
Leave a Comment