Donald Trump Jr., Sebastian Gorka to headline Brooklyn GOP gala
Hopeful Ridge Democrats are seeing red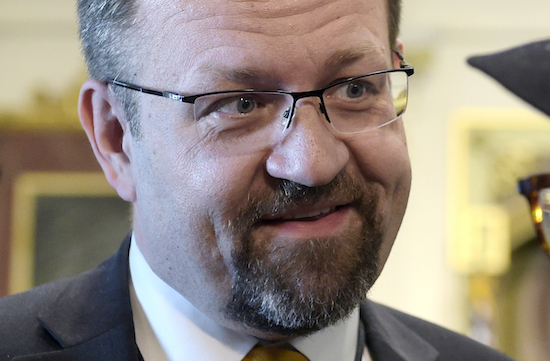 UPDATED | The chickens are coming home to roost.
Two luminaries of the far right wing — the president's oldest son, Donald Trump Jr., and controversial former presidential adviser Sebastian Gorka — will headline the Brooklyn Republican Party's Spring Gala next month in the borough's GOP stronghold.
Gorka will be a speaker at the $200-a-plate dinner at the Dyker Beach Golf Course on May 16, while Trump will attend an extra-price VIP reception prior to the dinner.
Brooklyn, of course, is one of the most reliably Democratic counties in the nation — where 79 percent of voters chose Hillary Clinton over Donald Trump.
But portions of southern Brooklyn were strongly part of so-called Trump Country. Dyker Heights, for example, supported Trump 49-47 percent. And nearby Homecrest gave 66 percent of its votes to Trump.
The area is currently represented by Republicans in Congress (Dan Donovan), the State Senate (Marty Golden) and the Assembly (Nicole Malliotakis). Most important, Brooklyn Republican chairman, lawyer Ted Ghorra, also lives in the area.
Trump, 40, the eldest child of President Donald Trump and his first wife Ivana, is a fierce defender of his father.
Hey, @KingsCountyGOP / @BklynGOP, just to be clear: when you host events with white supremacists and neo-Nazis like Gorka, you are declaring yourself in line with their thinking. Is that the GOP you want to be? Because that's what you are, now. #NotInMyBK

— Fight Back Bay Ridge (@FightBackBR) April 24, 2018
Gorka, 47, served in the White House as deputy assistant to the president from January to August of 2017. He is best known for inflammatory comments such as blaming crime on "black Africans" and demonizing Islam as an "evil" belief. He has also been linked to Hungarian Nazis.
Gorka's appearance at the dinner is making blue Democrats see red.
"Gorka has stoked Islamophobia and hatred of Muslims in this country. He … sees immigrants as enemies. His values are completely un-American," said lawyer Andrew Gounardes, one of two Democrats hoping to unseat Golden in the fall.
Gounardes will protest outside the May 16 event.
The other Democrat in the Golden race, Ross Barkan, also decried the GOP for inviting Gorka to Brooklyn. "It's not exactly surprising Brooklyn's Republicans would invite a foot soldier of hate to our borough," he said. "However, it's still despicable and all Republicans involved in these efforts, including Marty Golden, should be ashamed of themselves."
Michael Tobman, a spokesman for the party, defended the high-profile party guests and dismissed the Democrats' contention that the GOP is a fringe element in Brooklyn.
"The Brooklyn GOP is both contributing to current successes and building for the future," he told the Eagle. "Brooklyn is diverse and dynamic and the Brooklyn GOP reflects that energy."
UPDATE: After publication, the spokesman for the Brooklyn Republican Party, Michael Tobman, said, "Yesterday's story on an upcoming Brooklyn GOP fundraiser incorrectly implied that the party's Chairman, also an attorney, used his professional position and business contacts to facilitate obtaining speakers and special guests for the event. He did not."
Leave a Comment