Red Hook Grain Terminal and other Red Hook shoreline sights
Eye on Real Estate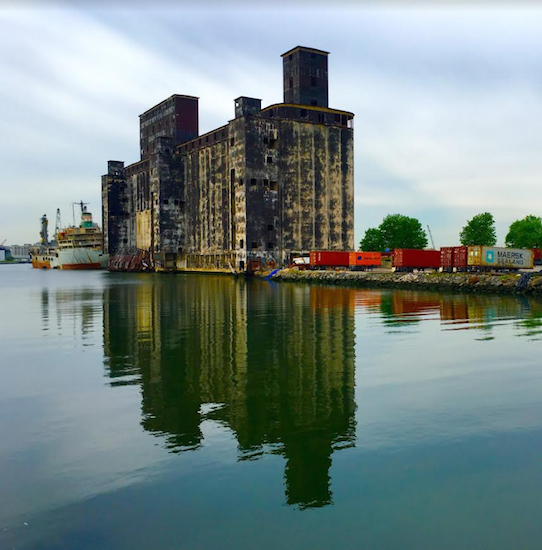 You don't have to be a trespasser to take good pictures of the Red Hook Grain Terminal.
Photographers who are brave enough to sneak into the extraordinary hulking building on the shoreline get amazing shots, of course.
But if you don't want to risk an arrest, go to Red Hook Park on a gloomy day. The waters of the Henry Street Basin, which surround the long-vacant grain terminal, reflect it like a mirror.
The venerable Red Hook Grain Terminal is one of many Instagram-worthy sights on the neighborhood's shoreline.
Nearby, there's Erie Basin Park, which IKEA was obligated to build because it demolished Todd Shipyard and replaced it with one of its home-furnishings megastores. See related story.
Here are some other great spots to spend the day as summer approaches:
Court Street's end
Court Street looms large in the lives of those who live and work in Brooklyn Heights and other Brownstone Brooklyn neighborhoods.
Did you know it ends on the Red Hook shoreline?
There are handsome ships docked behind a fence at Buckeye Terminals at 722 Court St. Its owner, Buckeye Partners LP, is involved in liquid petroleum-products transportation, storage and marketing.
This spot, where it runs into Bryant Street, appears to be the end of Court Street. But if you turn right and walk a short distance along Bryant Street, suddenly you see a short road sprouting to your left. That's the very last leg of Court Street.
We started to take pictures of this dead-end block, but a voice boomed out over an invisible loudspeaker and told us photos aren't allowed.
So if you stroll down there, remember to mind your manners. You are being watched.
Red Hook Stores and the Pier 44 Waterfront Garden
That's some fine scenery behind the Fairway.
Behind the supermarket, which is located in the 1870s-vintage Red Hook Stores at 480-500 Van Brunt St., there's a shoreline walkway.
In one direction, visitors strolling along the walkway see historic brick warehouses on a pier jutting into the water. In the other direction, they see century-old Lehigh Valley Barge #79, AKA the Waterfront Museum, serenely floating nearby.
Not far from this walkway's exit onto Conover Street, there is an entrance to the Pier 44 Waterfront Garden. There is public access to this private park, whose design and installation were funded by Red Hook landlord Greg O'Connell.
The Pier 44 Waterfront Garden has a boardwalk, and a fine garden where irises and peonies are blooming.
Louis Valentino Jr. Park and Pier
At the end of Coffey Street, there's a sweet little beach embellished with concrete blocks that spell out the words "Red Hook." More or less.
The letters are jumbled, but everybody gets the point.
The beach is part of Louis Valentino Jr. Park and Pier. It's a great place to gaze out over Buttermilk Channel and get glimpses of the Statue of Liberty, Governors Island and the World Trade Center.
Leave a Comment