What's new on flourishing Old Fulton Street
Eye On Real Estate
An IPO — way to go! — for an Old Fulton Street tenant.
Shake Shack, as every snack-loving New Yorker knows, filed for an initial public offering in late December.
Danny Meyer's burger-and-frozen-custard mecca has a busy, busy, busy location at 1 Old Fulton St., just outside Brooklyn Bridge Park in a mini-neighborhood that preservationist-minded Brooklynites call the Fulton Ferry Historic District.
That's of course the name the city Landmarks Preservation Commission used when it designated the area as a historic district in 1977.
The history-soaked building on the corner of Old Fulton and Water streets where Shake Shack is located is known as Franklin House.
The 1830s-vintage Greek Revival-style building housed a dining saloon and hotel back in the days when Robert Fulton's steam-propelled ferries dropped off passengers from Manhattan at the landing at the foot of the street.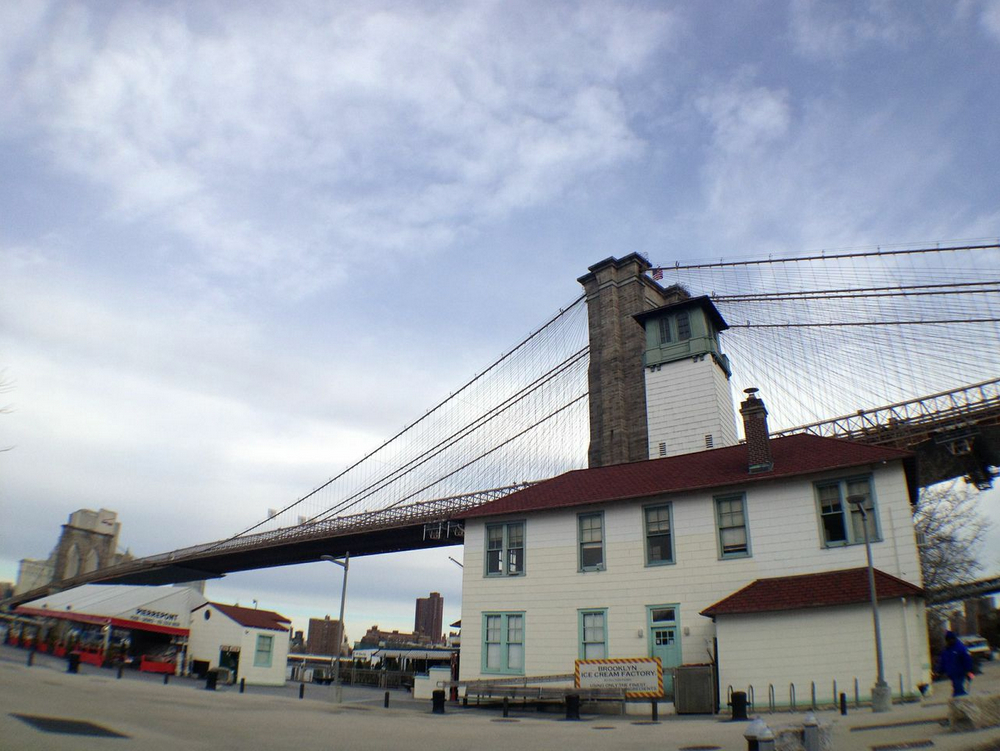 In addition to the IPO for 1 Old Fulton's popular tenant, there are other interesting real estate-related things going on in the flourishing area tucked between Brooklyn Heights and DUMBO.
There's new construction underway or in the planning stages — and one property has a new landlord. To find out which one, see the related story about the even-numbered buildings on Old Fulton Street.
Construction is ongoing at 9 Old Fulton St. on a "new four-story and penthouse mixed-use building with restaurant and residential use," meaning three apartments, city Buildings Department filings indicate. The site had been a vacant lot — a fire destroyed the building that previously occupied it, according to Brownstoner.com.
Also, the Landmarks Preservation Commission has approved a design for a ground-floor-plus-cellar retail and restaurant building by high-profile architecture firm Snohetta to be constructed at 20 Old Fulton St. At the moment, there's just one visual cue that Ferry Market, as the new facility will be called, is going to be constructed on the walled-in lot. On top of the wall on the corner of Everit Street, a small sculpture of a horse prances above a hanging sign that proclaims, "Ferry Market — est. 1640."
There was a Dutch community in the area back then — with a ferry service to and from New York, or more specifically, a small boat run by Cornelis Dircksen, that started in 1642, according to the Landmarks Preservation Commission's designation report.
The report is filled with fascinating details about the history of Old Fulton Street's buildings. Given our devotion to our employer, we found its description of the Romanesque Revival-style Eagle Warehouse at 28 Old Fulton St. especially interesting.
The clock-adorned warehouse was built in 1893 and 1894 on the site where the Brooklyn Eagle offices had stood for four decades until their demolition in 1892. Revered poet Walt Whitman was the newspaper's editor in the 1840s at this very site.
Enough about history, though. We understand that what readers most want to know is who owns these tremendously valuable Old Fulton Street properties. See the other two stories we're posting today — they will tell you.
Leave a Comment